Charitable Giving Solutions
Date:
Thursday, May 14, 2020
Location:
Meeting Location: St. Petersburg Yacht Club - 11 Central Ave, St. Petersburg, FL 33701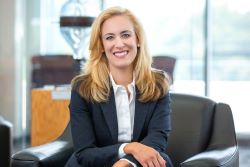 Clients are looking to combine their philanthropic goals with tax reduction goals. Philanthropic planning is an important part of having a complete financial plan. This session will provide a high-level overview of the various financial vehicles used for charitable giving, with a closer look at today's most popular giving option, Donor Advised Funds.
---
The breakfast roundtable meeting will be held at the St. Petersburg Yacht Club - 11 Central Ave, St. Petersburg, FL 33701. .. The meeting will begin promptly at 8 am with BREAKFAST and the opportunity to visit with fellow SEPC members at 7:30 a.m.
Advance reservations are required.
Meeting Location:
St. Petersburg Yacht Club
11 Central Ave, St. Petersburg, FL 33701
Street Parking is Available
or
Self Pay SPYC Garage ~ $7.00
---
Sponsored By:

---
Nicole Hisler is the SVP, Director of Charitable Solutions, at Raymond James Trust. In this role Nicole leads the charitable solutions business for RJ Trust, including the team that provides general administration for RJ Charitable, a public 501c3 with a donor advised fund program. Prior to taking on this role in 2018, Nicole was the Director of Corporate Marketing for Raymond James and has worked at Raymond James since 2011.
Nicole spent 16 years in the marketing industry before joining RJ Trust. She started off working as a marketing director for her family's MassMutual agency, Levin Financial Group, and two years later moved to a top local advertising agency, now named 22Squared, working on the Publix account. Nicole also ran her own marketing agency for a few years and was an adjunct professor at the University of Florida – her alma mater – teaching social media management. In 2004, while active in the local community with the Greater Tampa Chamber of Commerce, Emerge Tampa Bay and Ad2, Nicole was recognized by the Tampa Bay Business Journal as a 30-Under-30 award winner. Currently Nicole serves on the Board of Directors for Friends of the Children, Tampa Bay as well as Guardian ad Litem Foundation of Tampa Bay. Nicole and her husband, Pram Dass, live in South Tampa and have four children – three boys and a girl – between the ages of 9 and 3.